Hard Chrome Plating Consultants, Inc., 2196 West 59 Street, Cleveland Ohio 44102
Phone: 216-631-9090 Fax: 216-631-9060

Back to Catalog Table of Contents
How to Use a Dot Welder
Question:
I have pits in the base metal of an expensive stainless-steel part. Is there a way to weld them shut?
Answer:
You can use a special type of welder to weld the pits shut. The special welder is called a Dot Welder. Dot Welder pellets are available in stainless steel, general purpose steel, chrome steel, cast iron, and you can even weld chrome pits using chrome pellets. You can obtain chrome pellets from the chrome buildup nodules on your racks.
DOT WELDER
A REVOLUTIONARY FUSION PROCESS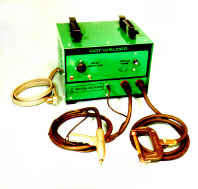 Fantastic revolutionary new fusion process. Fills cavities, scratches, undercuts, and other imperfections in alloys of steel and iron.
Eliminates the need for costly annealing, welding and rehardening procedures on base metal items.
Many repairs can be done right on the job, even without removing the part.
GENERAL DESCRIPTION
The WA-27-A Dot Welder is a 60 cycle, single phase, alternating current transformer equipped with the necessary controls to electrically fuse new metal pellets to the base metal in the repair of molds, dies and other surfaces where a smooth finish is required. Its function is somewhat similar to that of a conventional spot welder but does not require the complex sequence timing and forging pressure necessary for Spot Welding.
Basically the transformer changes the line voltage to a low open circuit voltage as a result of the ratio of wire turns and consequently gives rise to a very high amperage in the secondary leads. This high current density in the secondary line creates the useful heat for fusing the pellet into the base metal.
The voltage is only 3 to 6 volts AC and when all circuit components are functioning properly it is impossible to receive a shock from the low voltage. An additional non-current carrying green wire is included for safety.
Restore and repair plastic molding dies, injection dies.
Salvage precision rollers, dies, pistons, and cylinders.
Fill imperfections prior to plating, grinding, etc.
Repair foundry castings.

Hard Chrome Plating Consultants, Inc., 2196 West 59 Street, Cleveland Ohio 44102
Phone: 216-631-9090 Fax: 216-631-9060